The numbers and projections on mobile data growth from Cisco last week in its Visual Network Index (VNI) report, while mind blowing, simply confirm what most of us have expected. Mobile data is exploding. According to the study, the amount of data passed over the mobile Internet will increase 26 fold between 2010 and 2015. Where is all this growth coming from? The boom of smartphones and tablets, the spike in mobile applications and especially the growth of video are all to blame. In 2015, there will be more than 7.1 billion mobile-connected devices — approximately equal to the world's population in 2015 (7.2 billion).
The Android Honeycomb, Google's new OS for tablets announced last week, will now make tablets available from a variety of hardware vendors similar to what we saw in the smartphone market. The tablet market now has many alternatives including the iPad, the RIM Playbook and the recently announced HP (with Microsoft still missing!), resulting in better affordability across a wider segment. This will further drive data growth as each tablet generates 5 times more traffic than the smartphone. We are also now seeing the cannibalization of PC and notebook growth by tablets, a clear sign that the tablet is emerging as its own category.
While consumer mobile growth across the world has been explosive, what about the enterprise? The Mobile Enterprise is here and now. Those enterprises that embrace this change will see new ways to make business processes more effective, new collaboration methods and significant growth in business productivity. Some will even find new business models that would not have been possible before the mobilization of the enterprise.
Mobile Workers Have Consumer Expectations
When it comes to accessing information—the speed, the flexibility, the experience—employees expect what they've come to enjoy as consumers. And those expectations are influencing change in the enterprise. Nowhere is this consumerization of IT trend felt more than with mobility.
The workforce is changing and a new generation of employees expects to be online at all times with fingertip access to enterprise applications. Employees expect anytime, anyplace access to information. These employees also seek to have a virtual work presence that does not require them to be tied to a desk or a PC. With the availability of technologies and devices for 24/7 connectedness, there is a redrawing of boundaries between work and personal  time and space, as The New York Times pointed out in last week's story, Who's the Boss, You or Your Gadget?.
Employees who carry their mobile device, glued to their body 24/7 justifiably think of it as a personal device. It's a reflection of their tastes and who they are.  Often these employees are willing to purchase their device ("Bring Your Own Device (BYOD)") acknowledging its dual personal and work use. Giving employees the freedom to choose their devices can make for a more attractive workplace and enhances productivity, but makes it impossible for IT to standardize on one mobile device for the enterprise.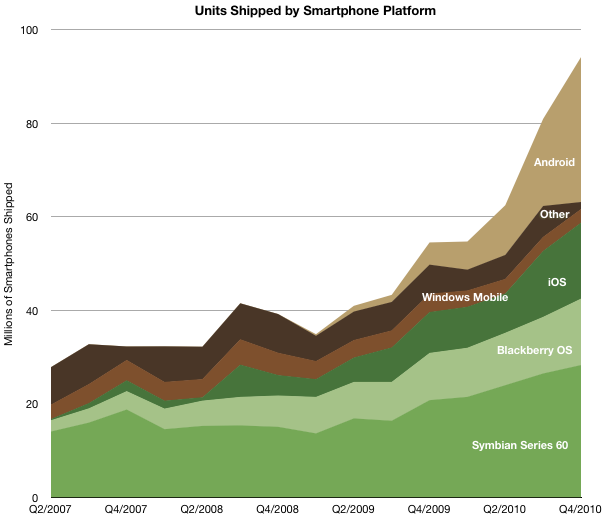 Rapid Growth and Diversity of Smartphones – Source Asymco
The deployment of smartphones for email has been a major advance in enabling mobility in the enterprise. Mobile market intelligence blog, Asymco, points to the $85 smartphone as a possibility in the near future, which will make its presence in the enterprise ubiquitous. Employees bring into the enterprise a diversity of smartphones but also multiple mobile devices on their person. In the recent Pew Internet report, we see that users own multiple devices particularly Millennials (18-34) and Gen X-ers (35-46), some of whom have laptops, smartphones and tablets.
Ultimately, enterprises don't really have much of a choice. A young workforce is at the gates, and they have never known a world without mobility. As enterprises embrace these new employees, businesses will become more agile and competitive.